by Ross Woodward of Media Key Spin this. Spin that. You'd think that people who work in PR companies in Australia really work in cricket.
What's worse is that numerous journalists in the media seriously believe (down to their booties) that people in PR understand nothing but froth and bubble – and fibbing.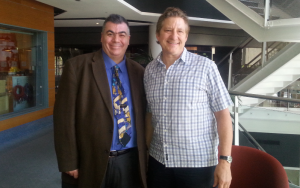 As the fabbo song goes, it ain't necessarily so.
Truth be told more and more PR companies in Australia are starting to wake up to the simple fact that the truth is a powerful and dangerous weapon.
Because often the bare naked truth behind any story or issue can be amazing… and powerful… and shocking.
Here at Media Key we are often shocked by the power of the causes we support. And that drives us hard to drive those issues hard. For motivation, there's just nothing like an important issue that needs and deserves an airing. We love it. It's our drive through feast. Bring it on!
We've been asked to profile the tragedy of what's happening to Australia's precious indigenous rock art. We surprised many media outlets with the simple stunning and awful truth. We are losing astonishing rock art all the time. There's not even a national catalogue of it. It is shameful. A national disgrace.
And when we worked on a campaign to highlight how consumers in Australia pay much much more than their counterparts in Europe for the same pharmacy medicines, we made national headlines on many of Australia's biggest news services.
Truth can be a powerful thing.
When you're looking for a pr agency in Australia – or anywhere – we say ask yourself this. Do the people CARE? Do they still get horrified by the scary truth? Or have they lost their mojo for passion?
It saddens me that there's so much froth and bubble floating about in PR. There are PR companies in Australia who want the dollars but also want to cut any corner they can. PR is NOT brain surgery. It's NOT rocket science. Results come from solid research, real (not bottled) passion and a genuine desire to create change for the better.
Any PR agency in Melbourne, in Sydney or anywhere – needs to have those precious qualities. Some journalists are right to believe they are about to be "snowed" by a PR agency with its latest release.
We believe you should get to the root issue – and understand why the message should be out there in a big way.
Only then can you create a campaign that has bite – and will be heard.
Why would you bother spinning powerful messages when they already have power and clout? EXACTLY.
Ross Woodward has worked in media for over 25 years including the BBC, Herald-Sun, Age, ABC Radio News and a PR career spanning over 20 years. He loves his family, life, spirit and making changes for the better. He isn't big on lies and loves the higher truth for obvious reasons.
Both comments and pings are currently closed.