This massive PR campaign was simply designed to dominate media exposure for The Salvation Army's huge annual fundraiser. The model Media Key has created provides multi-layers of media exposure and phenomenal value.
The coverage generated was independently analysed by MediaScape (Australia's biggest independent media valuation service) as worth $15.6 million. The television coverage alone was worth $12.7 million.
Highlights included:
50 television interviews and news pieces about the launch of the Red Shield Appeal took place.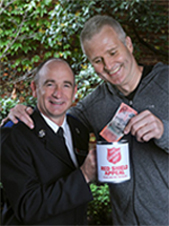 TV coverage included the following shows:
ABC News Breakfast
Channel 9's Today Show
Channel Ten's Breakfast
The Project on Channel Ten
Sky News
Channel Ten's Evening News
Sunrise on Channel 7
Channel 7 Early Morning News
Sky Business News
ABC Midday News
ABC News 24
Channel 7 Afternoon News
Afternoon Live on News 24
ABC TV's Lateline
SBS World News
Ten News, Sydney and Melbourne
ABC Sydney – syndicated around the ABC Network
Channel 7 Melbourne
Channel 10 Melbourne
Channel 9 Melbourne
Triple M, Melbourne
Channel 10 Brisbane
Channel 7 Brisbane
Channel 10 Adelaide
Channel 9 Adelaide
Channel 7 Adelaide
Channel 10 Perth
Channel 9 Perth
WIN Hobart
Southern Cross Launceston
ABC Darwin
Southern Cross Canberra
WIN TV Canberra
NBN Newcastle
Prime Orange
Prime Tamworth
Prime Wagga
Win Orange
Win Wagga
Win Wollongong
WIN Canberra
Prime Ballarat
WIN Ballarat
Win Mildura – later today
WIN Traralgon via Mildura
WIN Maroochydore via Rockhampton
Southern Cross Tasmania
WIN Tasmania
WIN Griffith
WIN Hervey Bay
Many TV programs mentioned the Appeal thanks to Media Key's work. These included the following:
Today Tonight, national – Channel 7
Today Show, national – Channel 9
Weekend Today Show, national on Channel 9
The Circle, national on Channel 10
Breakfast, national on Channel 10
Sunrise, national on Channel 7
The Morning Show, national on Channel 7
The Project, national on Channel 10
Channel 10 News (Melbourne)
Australia's Funniest Home Videos, national on Channel 9
News Breakfast, national on ABC TV
A Current Affair, national on Channel 9
Better Homes and Gardens, national on Channel 7
The Possum Club, Prime TV
Saturday Disney, national on Channel 7
Toasted TV, national on Channel 11
Getaway – national on Channel 9
AFL Game Day – Channel 7
Sunday Footy Show – Channel 9
Landline – ABC Channel 2
Rugby Club – Channel 9
Sunday Footy Show – Channel 9
Footy Classified – AFL
Footy Classified – NRL
The Game Plan – AFL
The Game Plan – NRL
Media launches in Sydney, Melbourne, Canberra, Adelaide, Launceston, Brisbane and Darwin took place as part of the campaign.
Leader Newspapers in Melbourne and Cumberland Newspapers in Sydney substantially supported The Red Shield Appeal.
Many major papers covered the Appeal including:
The Daily Telegraph, Sydney
Sydney Morning Herald
The Herald Sun, Melbourne
Canberra Times
The West Australian – ran a front page piece
The Mercury, Hobart
The Adelaide Advertiser
Northern Territory News, Darwin
Media Key generated 15 metropolitan and national feature radio interviews – covering all cities of Australia and over 80 radio interviews covering all states and territories.
We also generated 200 separate newspaper photo shoots for the campaign…a massive exercise and coordinated all the shoots.