A major news campaign was developed to highlight that hundreds of thousands of people currently do not call out an ambulance because of perceived cost.
The campaign highlighted there is huge funding confusion around ambulance services has to be dealt with because ambulances are free in Queensland and Tasmania and not anywhere else.
The campaign's TV exposure alone was worth around $1.5 million.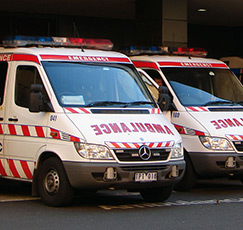 A number of TV programs did interviews including:
Sunrise on Channel 7
Today Show on Channel 9
News Breakfast on ABC TV
The Project on Channel 10
WIN TV News, Canberra
Over 35 radio interviews were generated for the campaign. These included:
Radio National Breakfast's Fran Kelly show
5AA, Adelaide
ABC Canberra
6PR, Perth
2CC, Canberra
ABC Canberra
2Day FM, Sydney
Triple M, Sydney
2GB, Sydney
2CH, Sydney
2WS, Sydney
2SM, Sydney
Mix 106.5, Sydney
Gold 104.3, Melbourne
Mix 101.1, Melbourne
6PR, Perth
96 FM, Perth
5MU, Murray Bridge
2ST, Nowra
2DU, Dubbo
2GN, Goulburn
2NZ, Inverell
2XL, Cooma
2NM, Musswellbrook
2EC, Bega
2RG, Griffith
Star FM, Griffith
2WG, Wagga Wagga
Star FM, Wagga Wagga
3YB, Warrnambool
2TM, Tamworth
2HD, Newcastle
2LT, Lithgow
ABC Riverland and Mallee
2DU, Dubbo
2NM, Muswellbrook
3BA, Ballarat
ABC Goldfields, Esperance
2TM, Tamworth
A number of papers ran a piece about the campaign including:
The Australian
Sydney Morning Herald
The Adelaide Advertiser
West Australian
news.com.au